11.0 Some Throws Used in Kickboxing
Although, because of the distance at which foot fighting takes place, the opportunities to perform a throw seem rare, they, nevertheless, do exist. Never attempt a throw unless you can create a diversion allowing you to break opponent's balance as you get close enough for the throw. Master the breakfalls first before studying the throws and remember that in kickboxing, throws are not an end in themselves, but a means to create an opening for a decisive punch or kick.
11.1 LEG SCOOP
We have seen it applied in conjunction with Parry Eight against a side-of-foot kick.
11.2 BACK KNEE BEND
Against a circular kick as described under 10.4.2
<![if !vml]>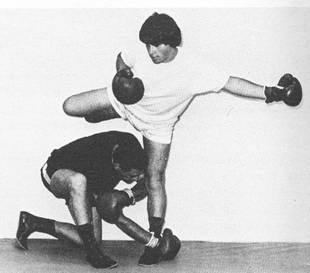 <![endif]>
Knee Throw
11.3 KNEE THROW
Against a circular kick as in 10.1.3. Grab the heel of supporting (left) leg with the right hand and drive left elbow against the inside of his knee while pulling his heel toward you.
11.4 BANANA PEEL
Against a high direct kick as in situation described under 10.3.1. Step under his crotch with the left foot, pointing it squarely to the left. Turn hips a quarter turn to the left. Throw a right lift punch to his chin, as you sweep his left heel from under him, applying your right lower calf against his. Sweep in the direction of his toes. Major contact throws are not advocated, being both unlikely and risky. *Caution! Very bad fall.