The primary source of information for A.S.P. Stickfighting is taken directly from:
Stickfighting - A Practical Guide for Self-Protection. Complete Instruction Manual for Men and Women, by E. S. Baltazzi, Chas. E. Tuttle, Tokyo, Japan, publishers, 1983. Contains the complete A.S.P. stickfighting method for sport and self-defense. [OUT OF PRINT].

DEVELOPED in response to the ever-increasing number of attacks in our streets, this system of stickfighting is recognized as a uniquely effective method of self-protection, suitable for men or women, young or old. A stick can be carried anywhere, perfectly legally and inconspicuously, and offers a devastating means of defense, requiring relatively little strength while keeping an attacker at a safe distance. In this book, Dr. Baltazzi presents a simple, comprehensive, and versatile approach to the stickfighting art, offering defensive techniques scientifically designed for use against a wide variety of attacks. Over 400 photographs illustrate practical, step-by-step instructions, making it possible for the beginner to achieve and maintain proficiency in his own home. Also explained are the underlying five principles of effective self-defense, plus basic training exercises, training through the sport of stickfencing, and techniques involving a powerful combination of kicks and stick-blows. Special sections show how to deal with all types of attack, such as punches, kicks, knife assaults, and handgun holdups. Based on the principles of American Self-Protection, and on the author's formal experience and skill in the martial arts and Western fencing, this book provides a novel, systematic approach to self-protection accessible to all.
Note: The techniques demonstrated in this book should never be taken to excess. If properly executed in training, they should cause no harm to anyone who is physically sound and in good health. The author and publisher accept no responsibility for accident or injury.
Dedicated to all my faithful students who, throughout the years, have helped to achieve recognition for A.S.P.
<![if !vml]>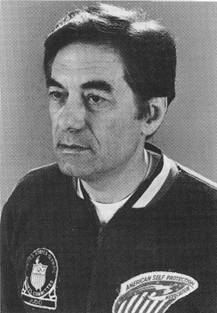 <![endif]>
Evan S. Baltazzi, originator of American Self Protection, received a D. Sc. from the Sorbonne, Paris, and a Ph.D. from the University of Oxford. Highly trained in the combative arts, he is a fifth degree Black Belt in judo and has also received extensive training in aikido, fencing, and savate. Dr. Baltazzi has served as chairman of the Illinois Area Judo Committee and as a member of the U.S. Olympic and National A.A.U. Judo Committees. A writer and inventor living in Ohio, he has several U.S. patents and original publications to his credit, including the book Kickboxing: A Safe Sport, A Deadly Defense (Tuttle, 1976).